Webinar Event
Panel Discussion on the theme
Thursday 4 June at 3.00pm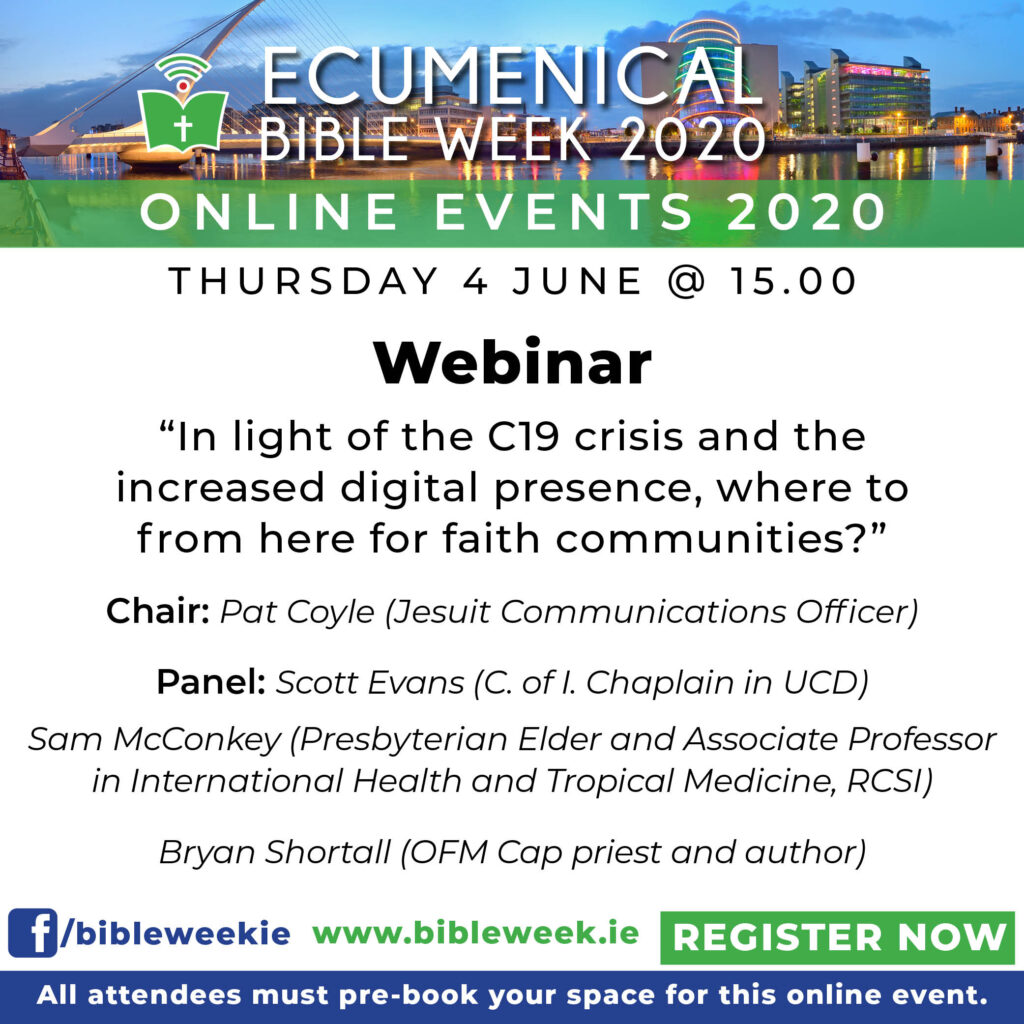 Webinar Presenters:
Chair: Pat Coyle
Pat Coyle is Director of Communications for the Irish Jesuits. Her academic background was mainly in philosophy, and a great part of her professional background was as a journalist, producer and presenter with RTE, BBC and UTV. She is a mother of two.
Panel:
Scott Evans
Scott Evans is the Church of Ireland chaplain to University College Dublin, producer of The Graveyard Shift Podcast and co-founder of Paradoxology, a prayer space at Ireland's Electric Picnic music festival. He grew up in Bangladesh and his life has been a series of crazy decisions, odd adventures and bad haircuts. He has worked as a supermarket-shelf-stocker, pizza chef, video shop attendant and Chinese food delivery driver before he finished Bible college and moved into full-time youth and young adult ministry. He is also the author of 3 books, Closer Still, Beautiful Attitudes and Failing From The Front (& Other Lessons From The Lives of Losers.) He loves Vietnamese food, coffee, writing, Aston Villa and Jesus.
Bryan Shortall
Fr Bryan Shortall OFM Cap is the eldest of seven and was born and grew up in Dublin. He joined the Capuchin order in 1987 at 18. He studied Philosophy in Milltown Institute and Theology in All Hallows and was professed in 1994 and was ordained to the priesthood in 1997. He graduated with an MA in School Chaplaincy from Mater Dei/DCU in 2004. He has worked in various ministries to date, including school and hospital chaplaincy, and local leadership in the Capuchin order. He has published two books with Columba Books in 2016 and 2019. He is currently based in St. Francis of Assisi parish, Priorswood.
Sam McConkey
Samuel J. McConkey is Associate Professor and Head of the Department of International Health and Tropical Medicine at the Royal College of Surgeons in Ireland. He is also a Consultant in General Medicine, Tropical Medicine and Infectious Diseases at Beaumont Hospital Dublin, and Our Lady of Lourdes Hospital, Drogheda both in Ireland. Sam is a member and an ordained ruling elder of Clontarf and Scots Presbyterian Church, Howth Road, Dublin.